January 16th, 2010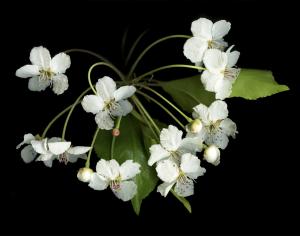 On Scanner as Camera

Among the concerns of art is the shifting of perspectives. Certainly using a flatbed scanner to capture an image provides such an opportunity. Defined by extreme limitations, it is compelling to explore the dichotomy of a virtually flat depth of field yet remarkable resolution resulting from a 1:1 correspondence, as though using an 8 x 10 inch piece of film. A third distinctive characteristic of scanner photography is that many scans involve removing the lid of the scanner. If nothing is used behind the object being scanned, then the negative space registers as black, which supports a dramatic focus on the central image. Within these three fairly consistent attributes of scanner photography, variations go in many directions. Manipulations in Photoshop serve both compositional goals and mathematical explorations such as tessellations, mandalas, or other patterns. Though most of the small number of artists in this field are doing excellent work there is much room for growth, innovation and contribution.

Marsha Tudor
Whispering Leaf Designs
March 5th, 2009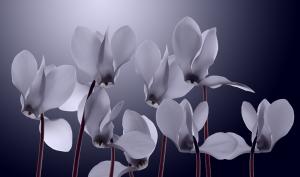 Marsha Tudor
From earliest childhood, being fascinated by plant materials and the spatial relationships they create with themselves, one another and the land around them, Marsha's dream world was filled with fairies and elves who danced in moon lit glens. Childhood books and hours spent outdoors idling time away left an aesthetic paradigm and process that filters current "finds" through a rigorous analysis.

Marsha's earlier work, primarily pastels, watercolor, and Prismacolor pencil also reflect her interest in organic forms, abstraction, and complex use of color. It is easy to see the influence of Georgia O'Keefe in her work. Other strong influences include Tiffany, Monet, de Chirico, Redon, and botanical illustration. A reviewer's comment that Marsha's work is "unabashedly feminine," reflects recognition of the importance of work being a process of personal introspection.


Professionally, Marsha's work includes floral design, commercial illustration, landscape design and drafting, Her wide ranging experience includes illustrating the book "Feasting on an Allergy Diet," designing a water conservation perennial garden for Castaic Lake Water Agency, a 3-D AutoCAD illustration for Quakes Baseball Team, and has shown her work in galleries in Sacramento, Fresno, Fort Bragg, and Alta Loma.

She became acquainted with computers originally to do AutoCAD for landscape design. Beyond her bachelor's degree, her training includes horticulture, floral design, botany, and photography which lead eventually computer graphics. Now the digital shift is complete, but the original vision remains.

Aesthetic concerns have always been about beauty and enigma; the areas in which they overlap provide an intriguing arena for exploration. A bit of mystery hovers as images often create an atmospheric quality receding back into dark shadows. The three dimensional nature of the subject matter is of utmost importance. Flat items are expressly avoided because they have little sculptural value.

Another related long-time concern of the artist is the juxtaposition of organic forms with geometry. Tessellations, arrays and mirrored images tug at the apparent contradiction of the soft verses hard, curvilinear verse rigid or irregular verses structured. Patterns play with these dichotomies and contribute to the use of art as a vehicle for shifting perspectives.